Animation Classes in Nagpur Animation Training Courses and Animation Classes Institutes in Nagpur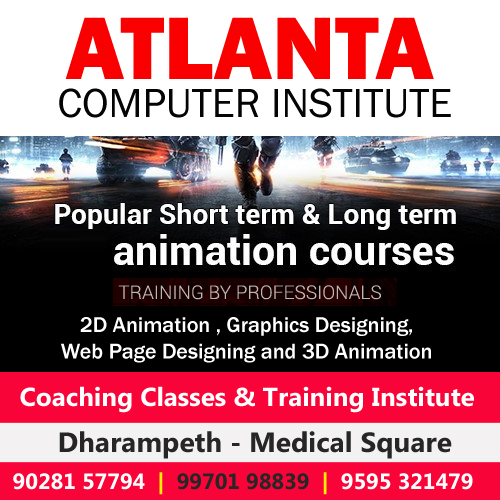 Animation is used for all types of designing like web page, advertising, films etc.Computer animation is the process used for generating animated images by using computer graphics. The more general term computer generated imagery encompasses both static scenes and dynamic images, while computer animation only refers to moving images.Modern computer animation usually uses 3D computer graphics, although 2D computer graphics are still used for stylistic, low bandwidth, and faster real-time renderings. Sometimes the target of the animation is the computer itself, but sometimes the target is another medium, such as film.Animation is fast growing field. Persons can make a great career in animations.Animation courses can be done by persons of any background or degree. For Batches and Classes you can contact Atlanta Computer Institute Nagpur. Regular and crash courses of Animation is available. We provide assistance for hostel facility for outstation candidates.
What is computer animation - For several years, animations has been field which rested solely in the hands of entertainment industry. Earlier the animation was done by pencils and paint by dozens of animation people but now the same animation can be done by single person with powerful enough home computer and right animation software.
The term "computer animation " itself covers wide variety of genres and applications.The simplest way to break down animation is into categories of 2d animation and 3d animation. 2d is short of two dimensional. 2d animation is typically done in software like Flash. The most popular form of 2d animation can be found while watching traditional cartoon programs in TV .You also see simple animations regularly while surfing the internet in the forms of Advertisements, E-cards and cartoon shorts. 2d animation is also useful in designing interactive interfaces.
As its name 2D Animation is done in two dimensional space While 3D Animation is done in virtual three dimensional space using polygons captured by live virtualcamerasto film the animation. The applications of 3D animations are many like video games to animated films and movies. The commonly 3D animation used in films are in special effects like live action stunts etc. While both types of computer animations can be done by either frame by frame animation or by mathematical interpolation between key frames, the initial steps are very much different. The two different forms of animation also requires different kind of software to do this.
So the course is designed in 2D Animation , Graphics Designing, Web Page Designing , 3D Animation, Video Editing and Maya Animation
The Teaching Faculty for Animation is experienced and well versed in animation. The Lab has latest Machines required for Animation. For Animation student Atlanta Computer assists for a suitable placement after the course.
Advance Animation Course
LEVEL – 1 Animation
COMPUTER AIDED DESIGNING ( CAD )
PHOTOSHOP
Features in Photoshop
Using the editing tools
Working with layers channels
Using image modifications tools
Working with text
Working with history state and actions
COREL DRAW
Introduction to the CorelDRAW program,
Menu bar & Drawing Toolbox
Overview of Drawing tools
Freehand Tool
ectangle Tool
Ellipse Too
Polygon, Spiral & Graph Paper Tools Spiral- You can draw two types of spirals: symmetrical and logarithmic
Editing the object
How to combine two lines
Learn to use Transformation (Mirror) of object and combine it
Learn to use Transformation (Rotation), to make a flower
Color Fill Tools, Outline Tool
Arrange Menu, Edit Menu, View Menu
Interactive Tool, Interactive Extrude Tool
Eyedropper Tool & Paint bucket Tool
Artistic Media Tool
View Menu
Designing an Advertisement layout
Designing an Greeting Card with Proper measurements & Color effects
Layout Menu, Text Menu
ILLUSTRATOR
Introduction
Interface
Ruler, Guides, Grids, Workspace
Toolbox
Pen tool, Pencil tool, Basic Shapes
Editing shapes, Paint brush tool
Grouping, Transform
Order, Layers, Wrap Tool
Twirl tool, Pucker tool, Bloat tool
Scallop tool, Crystallize tool, Wrinkle too
Symbol, Symbol hilarary, Symbol spray tool
Symbol shiften tool, Symbol scrunched
Symbol sizer, Symbol spinner
Symbol staine, Symbol screener
Symbol styler, Graph tool
Text tool, Object Menu
Mesh, Gradient
Illustrator filters, Create Distort, Stylize
Photoshop filters
Distort, transform, Photoshop effects
Effects gallery
Illustrator effects, Convert to shape

Saving, Conversion of Raster to Vector
PROJECT
LEVEL - 2 Animation
DIPLOMA IN WEB PAGE DESIGNING
GRAPHIC & WEB DESIGNING
HTML
HTML Overview
Standard Text Formatting Adding Color
Style Sheet Fundaments
HTML and Images
Using Tables, Frames and Forms
Publishing Your Pages.
CSS
Style control with style sheets
Essential Style Sheets
Using Inline Style
Embedded Style for page
A linked Cascading Style Sheet
XML
Using HTML File to Display the Data of XML
File
Objects and XML
XML Data Islands
Document type Definitions
JSCRIPT
Java Script Syntax
Variables Creating Object
Creating Arrays
Java Script Operators
DREAM WEAVER

Adding Graphics and Multimedia File

Working with tables in DreamWeaver

Working with frames in DreamWeaver

Working with style sheets in Dreamweaver

Project


LEVEL – 3 Animation

DIPLOMA IN 2D ANIMATION

FLASH

Basics Drawing And Planting Original Art In Flash

Importing Graphics

Applied Advanced Drawing Techniques

Using Motion Tween To Animate

Including Sound In Your Animation

Animating Using Movie Clip And Graphic Symbols

GIF ANIMATOR

Importing & Organizing Clips

Assembling Clips using the storyboard and Timeline

Exporting Video Clips & audio

Trimming and editing Clips

Editing

Adding Titles

Mixing Audio

Applying Audio and Video Effects PROJECTS
LEVEL – 4 Animation

DIPLOMA IN 3D ANIMATION


ADVANCE ANIMATION 2D 3D MAX

.Core concepts of 3D max

Basic concepts

Getting oriented in 3D space

Design theory for animation

Mixing color and light

Composition and perspective

Animation and story boarding

Planning your projects

Modeling with shapes

Compound objects

Mesh and Patch modeling

Lightening in max

Setting up the environment

Cameras and setting the shoot

Animation control tools

Building and animation Herarchies

Using particle systems

Animating with space wraps

Using controllers and expressions

PINNACLE

Modify clip properties

Standard playback controls

View sciences

Transitions

Titles

Photos and Frame Grabs

Source Folder for Album Contents

Preview in Transition effects

SOUND FORGE

PROJECT

LEVEL – 5 Animation

ADVANCE DIPLOMA IN ANIMATION


MAYA 2D WITH ANIMATION

Polygonal modeling

Nurbs Modeling

Subdivision surfaces

Blend Shapes

Basic animation

MAYA 3D WITH ANIMATION

Polygonal modeling

Nurbs Modeling

Subdivision surfaces

Blend Shapes

Basic Animation

Character setup and Rigging

Lighting for animation

Shading and Texturing for animation

Rendering Basics

Toon Shading

Paint effects

Using Particles

Fluid Effects

Hair & Fur effects

Project