Angular Js Classes in Nagpur, Angularjs Training Institute in Nagpur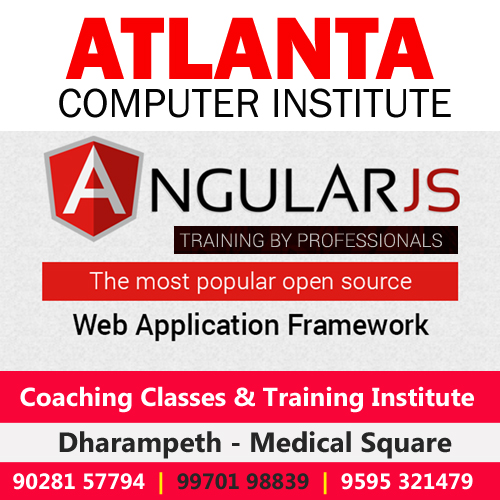 Why AngularJS?

HTML is great for declaring static documents, but it falters when we try to use it for declaring dynamic views in web-applications. AngularJS lets you extend HTML vocabulary for your application. The resulting environment is extraordinarily expressive, readable, and quick to develop..
Atlanta Comptuer Institute is conducting Angular Js classes in Nagpur Centres . Batches are available in morning afternoon and evening. For Batch timings and Fees you can contact Atlanta Computer Institute Nagpur Centres..
The modern version of Autocad allows for much more than simply C++ programming. It has set the standard for operability in terms of Advanced Programming Interfaces in CAD, and can use VBA, .NET, AutoLISP, and Visual LISP, as well as the C++ based ObjectARX. This robust programming set has allowed for great extensibility for the software, and there are a number of more specific programs, including AutoCAD Electrical, AutoCAD Civil 3D, and AutoCAD Architecture
Introduction of Angular Js 3D
What is in Angular JS 4

Creating an Angular JS 4 Project

Editing our First App

Understanding the Project Structure

in Angular Js

Why TypeScript. What is TypeScript

in Angular Js

Components, Templates & Databinding

Getting Started with Components

How an Angular JS 4 App gets started

Understanding AppModules

Using Templates & Styles

First Summary

Creating a new Component

in Angular Js

About Unique Selectors

Using multiple Components

View Encapsulation and Styling

Inserting Content with ng-content

Databinding Overview

String Interpolation

Property Binding & Event Binding Overview

Property Binding

Binding to Custom Properties

Event Binding

Binding to Custom Events

Two-Way Binding

Directives

What are Directives

Attribute Directives

Building a Custom Attribute Directive

Element Interaction with HostListener & HostBinding

Directive Property Binding

ngIf

ngFor

ngSwitch

Services & Dependency Injection

What are Services

Example - Logging Service

What is Dependency Injection

Example - Injecting the Logging Service

Services & AppModules

Multiple Instances vs One Instance

Using NgModules
<![if !supportLists]> · <![endif]> Routing

<![if !supportLists]> · <![endif]> Introduction to the Angular JS 4 Router

<![if !supportLists]> · <![endif]> Setting up Routes

<![if !supportLists]> · <![endif]> Loading Routes

<![if !supportLists]> · <![endif]> Navigation with Links

<![if !supportLists]> · <![endif]> Understanding Navigation Paths

<![if !supportLists]> · <![endif]> Imperative Routing (Triggered in Code)

<![if !supportLists]> · <![endif]> Route Parameters

<![if !supportLists]> · <![endif]> Extracting Route Parameters

<![if !supportLists]> · <![endif]> Query Parameters

<![if !supportLists]> · <![endif]> Extracting Query Parameters

<![if !supportLists]> · <![endif]> Query Parameters and the routerLink Directive

<![if !supportLists]> · <![endif]> Child Routes

<![if !supportLists]> · <![endif]> Redirecting Request

<![if !supportLists]> · <![endif]> Styling Active Route Links

<![if !supportLists]> · <![endif]> Using Guards with AppModules

<![if !supportLists]> · <![endif]> Guards - CanActivate

<![if !supportLists]> · <![endif]> Guards - CanDeactivate

<![if !supportLists]> · <![endif]> Forms

<![if !supportLists]> · <![endif]> Introduction to Forms in Angular JS 4

<![if !supportLists]> · <![endif]> Approach Basics

<![if !supportLists]> · <![endif]> Registering Controls

<![if !supportLists]> · <![endif]> Submitting a Form and Using the Output

<![if !supportLists]> · <![endif]> Form Properties

<![if !supportLists]> · <![endif]> Input Validation

<![if !supportLists]> · <![endif]> Form State & CSS Classes

<![if !supportLists]> · <![endif]> Default Values with ngModel

<![if !supportLists]> · <![endif]> Two-Way Binding with ngModel

<![if !supportLists]> · <![endif]> Form Groups

<![if !supportLists]> · <![endif]> Radio Button Controls

<![if !supportLists]> · <![endif]> Using the Form State, Providing a better UX

<![if !supportLists]> · <![endif]> Intro The Data-Driven Approach

Pipes

<![if !supportLists]> · <![endif]> What are Pipes

<![if !supportLists]> · <![endif]> Using Pipes

<![if !supportLists]> · <![endif]> Parametrizing Pipes

<![if !supportLists]> · <![endif]> Pipe Documentation

<![if !supportLists]> · <![endif]> Chaining Pipes

<![if !supportLists]> · <![endif]> Custom Pipes